CastleBeary Graphics
These are Printable calendar templates that I created with Paintshop Pro. Click on the small calendar icon To View and print the larger calendar of your choice. Then click the back button to return.
Small monthly Calendar
....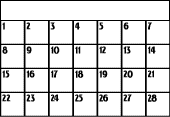 Large monthly Calendar
....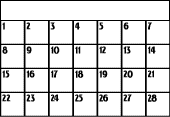 Childs monthly Calendar (Child can draw a picture above calendar). We used this for Girls Achievement (Personal Preparedness) Each girl drew a Christmas Picture on her calendar for the month of December, then marked important dates and appointments on it.
....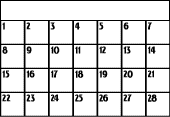 Back to PRINT STUFF
Find Answers
All graphics on this page created by CastleBeary Graphics